If you are in a management or leadership role at a dealership, why should you attend this workshop?
Your dealership is being robbed blind… Did you know that when you hire 3 salespeople who don't make it past 12 months, you've just been robbed $162,000! The most recent NADA workforce study revealed that every salesperson you hire who doesn't stay for at least 1 year costs a dealership at least $54,000 per person! How many have come and gone from your store in the last 12 months? We have to slow or stop the turn-over!
If you are not 1st, you are not just last – you are dying… We both know the "Up-Bus" broke down years ago and isn't coming by like it used to and yet many sales teams are still "waiting on traffic." The ugly truth about the market you are in is that the average customer visits 13 websites, but only 1.7 to 2.4 dealerships. And at a cost of over $630/sale in advertising expense, we can't afford to keep paying for the right to race to the bottom and having your team blow out the customer. 
If you build it, they will come… If internet leads close at 12%, social media-based sales close at 64% and referrals close at 76%, while repeats close at 87%, then shouldn't we be teaching our teams how to build a business based on service, repeats, referrals, and prospecting?

Just IMAGINE for a moment…
Imagine how much easier your life would be if you were able to have higher quality team members because you attended this workshop and you now use a better recruiting and on-boarding process.
Imagine knowing exactly how you can motivate and influence your team to grow their sales because they are focused on repeat and referral business instead of standing around waiting for an UP or for the BDC to hand them an appointment.
This workshop will not be a magic pill or silver bullet for all of your problems. But it will give you some new ways to increase your team's effectiveness and give you peace of mind because you will finally have new strategies and tactics to win!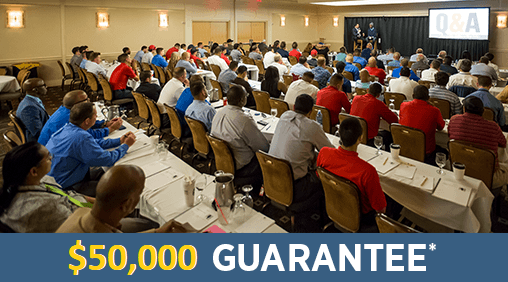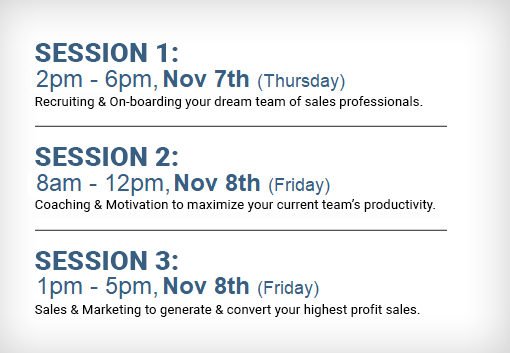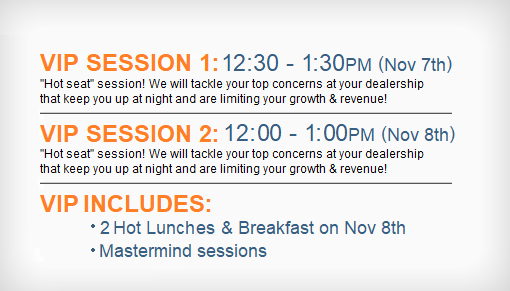 Topics discussed & covered in 3 sessions over a day and a half of content:
How to keep salespeople motivated

: 5 motivators and 6 core values
Close more deals with the

most effective T.O. techniques

& approaches
Discover 10 places to

recruit top performing salespeople for FREE

Effective one-on-ones

to coach your team

to increase sales & profits

7 methods

to generate

400% more referrals

and traffic for FREE
Gain a competition advantage with

5 creative marketing strategies

5 principles

(most managers don't know) that will maximize gross
Discover how to generate

25-50% higher appointment shows

The lost art of the sales meeting

– how to maximize them
Network with successful managers and

learn their best practices

10 metrics to market to your

highest value customer

Unlock the social media strategies

to generate more sales
WE ALREADY USE A TRAINING PROGRAM, WHY WOULD WE ATTEND THIS WORKSHOP?
Sellchology is the study of selling through psychology. Any sales training program you currently use will be enhanced and improved through the use of psychology. Sellchology will help your management understand WHY your people do or don't do what you ask, how to find better people and how to help them grow their sales and incomes – so you make more, too!
WHAT MAKES THIS WORKSHOP DIFFERENT FROM OTHER MANAGEMENT SEMINARS?
Most trainers have not touched an ACTUAL car deal in decades. Jonathan still sells cars and his clients can testify to the number of salespeople he has helped coach and develop. If you want to grow your sales team and develop managers into leaders, get up-to-date strategies from someone who still loves to sell cars and uses the principles he teaches daily!
WHO SHOULD GO TO THIS WORKSHOP?
Most managers hate going to "training" because it's the same old box with a new bow on it! This class is for people who are interested in a NEW WAY of looking at their team. Our psychological approach is refreshing for the veteran managers and empowering for the younger leaders. Attendees will leave feeling educated, inspired, and motivated to grow as a leader and coach.
"Most of us get stuck in a negative rut when it comes to our people or our process at some point. Sometimes we need to go to something like this to make us think differently about the business."
SCOTT WILLETT – DEALER, Willett Honda
"Jonathan has a unique way of explaining common issues we face every day in a way that makes you see them differently. It has allowed us to grow 172% since the first 12 months of implementing the strategies."
DAVID BOOTH – GM, Shottenkirk CDJR
"GREAT EXPERIENCE! Given the choice between staying at the store trying to make something happen or attending this and making something happen – GO TO THIS WORKSHOP! "
JAMES ALLEN – GSM, Toyota of McDonough
"Pattern Interrupt was MIND BLOWING! It brings back the fun and creativity to selling. I really liked all the different stories and examples. Real-World examples help relate the content in a way I can remember."
IAN GRENIER – SM, Landmark CDJR
"Jonathan knows what he's talking about. Every time he has an event we send people and have been doing so for 4 years. His ideas are fresh and practical for dealers who want to gain and maintain market-share and profitability. "
PETE RICHARDS – GM, Ed Voyles Honda